The 2021 Subaru Love Promise Community Commitment Award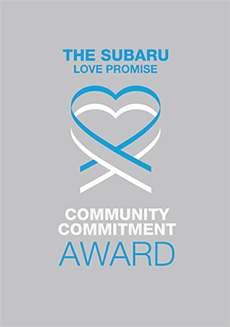 We've been nationally recognized for our dedication to our community and the Subaru Love Promise.
We're honored to receive the 2021 Subaru Love Promise Community Commitment Award. This award nationally recognizes Subaru retailers who are making the world a better place while demonstrating an outstanding commitment to supporting passions and causes in local communities. These efforts are focused in important areas such as the environment, community, health, education, and pets.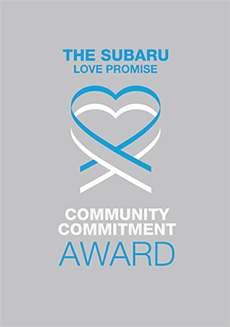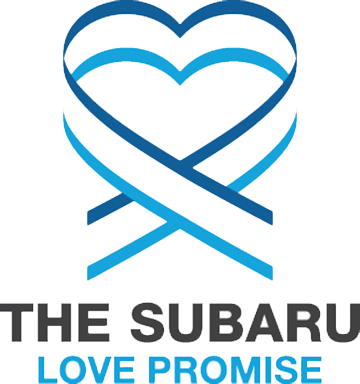 What is the Subaru Love Promise?
Subaru and our retailers believe in making the world a better place and the Subaru Love Promise is our vision of respecting all people. This is our commitment to show love and respect to our customers and to work to make a positive impact in the world.
How is Capitol Subaru of Salem dedicated locally to the Love Promise?
At Capitol Subaru, our Love Promise to the Salem area can be in seen in various partnerships with local charities and nonprofits. We're grateful for the opportunity, not only to be a part of the Salem community, but to serve it as well.
Willamette Humane Society
Eco-friendly technology, Straub Enviornmental Center
SMART, Salem-Keizer Education, Salem New Car Dealership Assoc, Soroptimists
United Way of Marion/Polk Co
American Heart Association, Marion/Polk Medical Society, Med Assist, Salem Health Organization, West Valley Hospital
Love Promise Stories from Capitol Subaru of Salem
Subaru and Capitol Subaru of Salem believe in making a positive impact on the communities in which we live and work. We uphold that belief through our Love Promise Community Commitment. Every month, we select inspiring stories from customers and partners from around our area who strive to support our collective commitment and feature them here
Subaru Shares the Love with WHS Pets - Sherri P
Buddy came to the Willamette Humane Society with a large abscess on his head and lumps and bumps common for an 11-year-old senior dog. The shelter medical team could see that he was in pain, and went right to work. He had surgery to remove the mass, as well as a dental cleaning. His former family noted he'd been having seizures, so Buddy settled into a foster home where he could heal, and where they could monitor his recovery. Thanks to the incredible funding from Subaru and the Share the Love program, dogs like Buddy can have a second chance at their happily ever after. Once Buddy recovered, adoption applications poured in, and Buddy is now living an adventuresome life as a canine co-captain. This young-at-heart labrador will spend part of the year aboard his family's sailboat. They will be forever grateful that Willamette Humane Society was able to provide such excellent medical care, thanks to the support from donors like Capitol Subaru. With Subaru's help, shelter pets not only survive, but thrive in their new forever homes.
---
Capitol Subaru helps Doris get her beautiful smile - Shelley W
Doris feels SO much better after her dental care – including the removal of 22 teeth! Dental cleaning and surgery is the single most expensive routine service needed by adult animals to improve their quality of life. Free of mouth pain and other systemic health effects of tooth decay, the pets are more able to be a comforting presence to their special person for the remaining time they have together in hospice care. Because of the lab tests and anesthesia necessary to perform dental care safely, the cost for dogs and cats ranges anywhere from $300 to more than $1,000 per animal. Patients and families dealing with serious human illness find it difficult to afford costly veterinary care like this, so it has often been deferred, or has never been done. In cases where no family member or friend can adopt the pet, when it comes time say goodbye, having expensive dental care already completed will help ensure timely placement for these animals in the loving arms of a new forever family. Capitol Subaru generously designated their $1500 Philanthropy award from Automotive News to care for the dental needs of pets like Doris through Willamette Valley Hospice's Pet Peace of Mind program. The dogs and their beloved people are grinning from ear to ear!
---
Starting 2021 With Love - Brian S
Capitol Subaru and it's employees raised over 400 pounds of food and health care Items for a local homeless shelter and also for a Battered Women/s shelter. Dealer Alex Casebeer said "we have to kick off 2021 with a show of love to our community and those in need" We couldn't be more proud of our staff and our customers for their support.
---
Capitol Subaru helps again - Shelley W
During the Oregon wildfires in September, this sweet little guy needed a temporary foster home while his person evacuated the area due to the hazardous air quality. One of Willamette Valley Hospice's volunteers, Diane Young, operates the local rescue Salem Dogs. She picked the dog up at a moment's notice and kept him with her until it was safe for his person to come back and get him. That's the kind of thing Pet Peace of Mind does for hospice patients and their fur babies. Thanks to Capitol Subaru's support, PPOM is a robust and community-supported resource. Thanks again, and best wishes - Shelley R. Wagener Volunteer Coordinator 503-588-3600
---
Capitol Subaru Surprises and Feeds Fire Fighters - Jordan T
As an area of the northwest that is rarely affected by natural disasters, the community of Salem came together in a way of indescribable cohesiveness. People from all walks of life gave their time, donated their belongings and contributed their finances for those who lost everything. Business owners and their associates stepped up when called upon to help with overwhelming support. Chief among them was the amazing team from Capitol Subaru. Owners, employees, friends and family gave their own time and resources to help feed and clothe evacuees including a group of fire fighters themselves. Capitol Auto Group's devotion to this community has long been on display, but their recent commitment in a time of need raised the bar and helped set the tone for how we should love one another. This fighting spirit of compassion runs deep in our small corner of the world, but without their decisive call to action, much of this would have been impossible. I want to personally thank the Casebeer family, the team members of Capitol Auto Group and the fine brands they represent for setting the example for all businesses, big and small by doing what was right and never settling for less in a time of need! Many thanks!
---
Capitol Subaru Steps up to help during wildfires - CAPITOL TOYOTA C
September 7th, 2020, wildfires broke out in the Santiam River Canyon just 30 miles from Capitol Subaru in Salem Oregon. Within 24 hours the fire had engulfed communities up and down the canyon. Capitol Subaru sprang into action to help our community and neighbors. We immediately called the United Way and asked what the biggest need was for the people that were evacuated and it was water. Within 2 hours of the evacuation notice, Capitol Subaru had employees volunteer that delivered 40 cases of bottled water and $1000 for the purchase of emergency supplies for the evacuees. Capitol Subaru also brought pet toys, pet food, and waste bags for pets that were also evacuated due to the wildfires. Stephanie Bobb from the United Way of the Mid-Willamette Valley was so impressed "I couldn't believe that within 2-3 hours of our initial call for help the Capitol Subaru employees were here delivering water and supplies and then continued to stick around and helped us move boxes and assist others that were bringing donations, it was AWESOME"! In the days following the initial outbreak of wildfires Capitol Subaru continues to provide assistance to the local United Way thru volunteer hours and donations.
---
Bringing joy to a local boy - Fletcher J
In Early August, Capitol Subaru was informed of a young boy and his family who needed a little joy in their lives. Wish Kid Frankie and his family have been hit hard by the effects the pandemic has had Frankie's treatments as well as the economy. Frankie has a critical illness that causes seizures of all different kinds and the family was looking to bring 3-year old Frankie some happiness and his family some peace of mind. That is where Capitol Subaru steps in. Hearing this news, they pull together the resources to give Frankie some of his favorite toys and the opportunity to check out some cool Subaru's in his favorite colors, red, blue, and black! On the day of what become known as Frankie's Car Party, Capitol Subaru brought out the cars, toys, and a final big surprise for Frankie's mother. Due to the concern over seizures, she expressed that she had not slept for more than 3 hours at once any night in the last three years and the family was looking to purchase a seizure monitor but could not afford it. Capitol Subaru made the choice to purchase that monitor for the family and delivered it to the mother who broke down in joy. She expressed that, "They could never know how much this means to her and that she is truly grateful for this gift that will bring her some peace of mind and hopefully some more sleep!" There is not a doubt in my mind that Capitol Subaru is as connected to the Salem community as anyone and makes it their business to impact that community in a positive way!
---
Capitol Subaru makes wishes come true! - Fletcher J
2020 has been an interesting year for all. Early on, Capitol Subaru agreed to become the Presenting Sponsor of Make-A-Wish Oregon's Trailblaze Challenge, an outdoor endurance hike covering 26.3 miles in a single day. Flip the calendar to March and Covid-19 had shut down the entire country. Despite the challenges they faced in their business when Make-A-Wish went back to Capitol wondering whether or not they would want to continue their sponsorship, Capitol not only expressed the desire to continue, but asked what more they could do to help. Their outstanding team led by Carrie Casebeer and Brian Schindler not only sponsored, but also sent out swag boxes to every hiker featuring Subaru and Make-A-Wish gear! On hike weekend, Carrie tackled the challenge completing 26.3 miles in under 10 hours and Brian was on the course at an aid station greeting, helping, and providing support for every single hiker! I learned that when the Capitol team commits to something, they go all in. Their support of Trailblaze Challenge helped raise over $146,000 during a pandemic and will grant the wishes of 20 local children!! Thank you Capitol Subaru for your outstanding community service and drive to make the places we live, work, and play better!
---
My beloved Cat - Shelley W
When her owner came into care with Willamette Valley Hospice, one of his chief worries was finding the right home for his beloved cat. She was definitely an affectionate one-person kitty, and very shy with strangers. She was young and active, and too rambunctious for someone as ill as her person was coming to be. The Pet Peace of Mind program, supported by Capitol Subaru, stepped in to provide needed veterinary care, and a volunteer got to work seeking a new home. Fast forward six months. The couple who adopted her absolutely adore this kitty. She is a 100% inside cat but she has windows she can look out of to see what's going on in the world and to watch birds and she gets to sit on her new dad's lap for "outside" sessions on their deck. She is very active at times, loves to snoop in drawers and runs through the house leaping on furniture as she goes. Thanks to a Pet Peace of Mind, the original owner could let go knowing she'd found a wonderful home, and her new owners have had the warmth and delight of a new companion. Thank you Capitol Subaru
---
Capitol Subaru helps Stella and Celie live healthy - Shelley W
Update on Stella & Celie. These older gals are still together and loving life, in a new home thanks to Pet Peace of Mind and OSCAR (Operation Safe Canine Animal Rescue). They had each been adopted as abandoned puppies 15 years ago, and their owner came into care with Willamette Valley Hospice in 2019. PPOM had funds available through Capitol Subaru's generous sponsorship to meet the significant veterinary needs of the four older dogs and two cats in his care, to ready them for a new life once their beloved person was gone. It is wonderful to see them doing so well! Best wishes --Shelley R. Wagener
---
Capitol Subaru Shared the Love - BJ A
I am so thankful to Subaru of America and especially my local Dealer (where i bought my awesome new Outback) Capitol Subaru. They donated over $52,000 to my organization Willamette Humane Society this year and over $150,000 the last 3 years, that money has saved so many animals lives it is just amazing!! Capitol Subaru goes above and beyond for the Willamette Humane Society in so many ways all year long as out title sponsor for our President's Circle Awards Banquet and our largest fundraising event Bowser's Boo Bash which we hold every October. I can't thank Capitol Subaru enough for all they do to support the animals that need so much help in Oregon and how they represent the Love brand like no other. BJ Anderson President Willamette Humane Society
---
Capitol Subaru Shares the Love with Archie - Shelley W
Capitol Subaru loves pets, and it shows! As Title Sponsor for the annual Walk-n-Wag, Capitol Subaru provides a solid foundation for a fun community pet event and is the lead donor for Willamette Valley Hospice's Pet Peace of Mind® program. Funds raised by the event support the beloved pets of hospice patients. Archie is a 6 year old dachshund whose person was cared for by Willamette Valley Hospice for several months. When she met the hospice team, her dear Archie was having such terrible skin issues that he had chewed his belly nearly raw. He had lost a lot of his coat, and was distressed and anxious. Pet Peace of Mind® funds provided veterinary care and medications to help resolve Archie's skin discomfort, brought his vaccinations up to date, and paid for a further urgent veterinary visit when he hurt his back (which is a tendency for long-body dogs like Dachshunds). After the patient died, her family caregiver needed to return to work full-time. Archie had always been with his person 24/7, so the family decided it would be better for him to live in a home with companionship during the day. The earlier veterinary exams had noted the need for dental cleaning and possible extractions. Because of a special grant from the Karen M. Schroth Charitable Foundation for Animals, Pet Peace of Mind was able to get him in for evaluation and surgery as part of his preparation for a new home and family. The dental film series revealed two abscessed teeth. The dentist extracted one, and was able to cleanse, treat and pack the other, so he could keep the tooth. Archie got the veterinary care that he needed, and through the help of local rescue group Salem Dogs, he was quickly adopted by a loving human mom, and a friendly Labrador "sister". Thanks, Capitol Subaru!!
---
Share the Love Toy Drive for Make-A-Wish - Mallory T
Each year, the Make-A-Wish Oregon chapter hosts an event called "Holiday Magic" at our two local children's hospitals. At these events, children staying at the hospital during the holiday season have the opportunity to shop for gifts to give their family members (and even pets)! Each child also receives gifts and a stocking. This year, we partnered with Capitol Subaru to collect toys and gifts to stock the shelves at Holiday Magic. The outpouring support provided by Capitol Subaru and their customers was overwhelming! Capitol Subaru collected a car-full of items in which we are so excited to share with our hospital families this week. Thank you, Carrie, Brian and everyone at Capitol Subaru for supporting Make-A-Wish Oregon and the families we serve. Happy holidays!
---
Rini's Wish Reveal Tailgate at Capitol Subaru! - Mallory T
The team at Capitol Subaru has the biggest hearts and truly cares about the local community! On July 30, the staff held an incredible wish reveal tailgater party for a very special 7 year-old Salem girl who is a current Make-A-Wish Oregon participant. Rini has a heart condition and has already had one heart transplant. She still has a long road ahead of her, but this special day brought so much joy to her and her family. They will never forget it! Rini LOVES football and especially Russell Wilson of the Seattle Seahawks. Her Make-A-Wish experience was revealed to her at Capitol Subaru and it will be coming true in August 2019. The Capitol Subaru team wanted to help send her off in style, so they created an amazing party and showered her with gifts such as a Seahawks custom jersey, a Seahawks-themed tutu, an iPad, a Polaroid camera, a custom embroidered tailgating chair, a ton of candy, and all the tailgating gear she could ever want. Not only did the Capitol Subaru team host a party, they also raised a TON of money to support Rini's wish. With every car sale in the months of June and July, a portion was donated to Make-A-Wish Oregon. This was a game-changer for the non-profit! Staff members, Carrie and Brian organized the tailgater party complete with grilled hamburgers and hotdogs, beautiful decorations, games for the kids and lots and lots of candy. The Capitol Subaru mascot, Cappy, joined the party and the families loved him! To the Capitol Subaru Team: You have made a difference for Rini, her family and her special wish friends whom you all greeted and cared for with love. Thank you from the bottom of our hearts for your support of local families!
---
Subaru Loves to Care - Tori H
On May 16th, the OSWI Chapter and Capitol Subaru had the pleasure of delivering blankets and arts & craft kits to Salem Hospital as part of the Subaru Loves To Care program. This incredible act of generosity was warmly received by the Salem Hospital staff who were thrilled to distribute these comforting gifts to their patients. LLS is proud to partner with Subaru to spread hope, love and warmth to those fighting cancer, across the country and right here in the Oregon community.
---
Capitol Subaru Garden Days! - Jeff G
Capitol Subaru's 11th annual Garden Days event was a Huge Success, they had over 16 vendors and 400 people at the dealership on June 8th. They had a Llama, rescue dog, a big stuffed bear and all kinds of food and refreshments. Garden Time TV hosts William and Judy were on site for photos and Capitol Subaru had a booth giving away free plants and Subaru swag like backpacks, pet toys, and all things Subaru. We really appreciate the Love that Capitol Subaru has for the community, the earth, and each other. You can care that they truly care and are there to do the right things!
---
Capitol Subaru Loves Kids and Supports SMART - Brian S
The SMART (Start Making A Reader Today) reading program for underprivileged kids is one that Capitol Subaru has been a Major sponsor of for the last 8 years. In that time they have helped over 400 students at Independence Elementary School learn to love reading and have given away over 1500 books to those kids. "Brian Schindler Director of Business Development and Carrie Casebeer the Marketing Director for Capitol Subaru have been instrumental in this program since day one," says Michael Finlay the area manager for SMART. "We couldn't do it without the Support from Capitol Subaru and it's employees"! We love when they come and read to the kids and bring their mascot Cappy the bear out to the school that is a HUGE day for the students.
---
Capitol Subaru Shared the Love with the WHS - Sherri P
We were so shocked and excited our only words to describe it was WOW!! Capitol Subaru along with a few members of SOA presented us with a check totaling $55,000 and it was amazing. It helps us adopt out over 95% of all of the pets we rescue to forever homes. We even brought one of those pets "Larry" in a tie because he was so proud of Capitol Subaru. We really want to thank Capitol Subaru for all they do for us not only today but all year long, they really understand the word LOVE
---
Fido's Survival Guifde - Brian S
We got crafty and made pet-themed ornaments (supplies were provided) to take home. We also took photos of the family and their furry friends, compliments of Capitol Subaru. This was a free event hosted from 11 a.m. to 1 p.m., we had two 30 minute presentations of Fido's Holiday Survival Guide — the first session started at 11:15 a.m. and the second session started at 12:15 p.m. Each pet safety session covered great material for our pet owners and we were hands-on using dogs from the audience as examples. Ornament making and photos were going on the entire time. Thanks Capitol Subaru for all you did for us hosting this great event, the mini donuts there were awesome. Don't forget: Between November 16, 2018, and January 2, 2019, Subaru of America will donate $250 for each new Subaru sold or leased. As the buyer, you get to choose where that money goes—one of four national charities or a hometown organization. For the fifth year in a row, Capitol Subaru chose Willamette Humane Society as its local nonprofit to support. Find out more on our website: https://whs4pets.org/share-the-love-2018/See Less
---
LV JADE in Jasper Green - Debi D
I have a beautiful Husky, named Jade, that loves to walk, or maybe pull is more appropriate. I adore her. I needed an appropriate car for transporting her. I knew that Subarus hold their value and I had seen the 2018 models. I decided that the Forester would give my dog the room I wanted and needed for her. I was attempting to sell my car and wanted to obtain the 2018 Forester while the 0% financing was happening. I went through a horrific experience of being scammed, while attempting to sell my car, and I had a few people that were less than ethical with me when contacting me about my car. I was tired and began to think I would never sell it, even though it was a lovely car. I knew what I wanted in a Subaru but once I had secured a buyer, all of the 2018 models were basically gone. I had been told that the new 2019 models had changes to the body style so I called around and Salem Capitol Subaru could get the color I wanted in 2019. Riley spent time with me, sent me what information I wanted and needed. I then went to the credit union and was pre-approved for the car and amount needed to purchase it. I had contact with a young man that wanted to buy my car, and within the week, I had sold my car and bought my new car with Capitol Subaru. After all that I had gone through I did not want any further kinks, so I told them when I would be there, asked that they have it ready and I arrived. Chris Dupont was very organized, professional and kind. He had my paperwork done and I was able to drive my Subaru home that night. Justine Hernandez had explained the car to me, showed me what I needed to know to drive safely. They had been awesome to work with. My car license plates will be LV JADE, the color is Jasper green for the forests that I will be walking my Husky in. Our first trip out was a most beautiful park near the Willamette River. I thought I loved my last car but this car is perfect for me. As a Realtor, I have taken four people out at one time to look at homes. They love the car! I have brought home a Christmas tree in the cargo area and used my leaf blower to clean out the tree needles afterward. And, the best thing is that I save about $8.00 per fill up because my last car took Premium gas only, I save miles per gallon that will save me about $1500 a year and I save on my insurance by about $144 a year. I am a very happy person and love my new Subaru! And so does my fur friend, my clients and my friends! I bought the car for my dog and am so glad I did! I love it. Thank you Capitol Subaru for being truly wonderful to work with!
---
Capitol Subaru blankets Oregon - Bob D
Sackcloth & Ashes is a one-for-one blanket company: For every blanket someone purchases, a second blanket is given to their local homeless shelter. On June 1st, 2018 Sackcloth & Ashes launched is first major campaign: Blanket The United States. The goal of the campaign is to donate ONE MILLION blankets to homeless shelters by 2024 by partnering with companies that give gifts to their customers or employees. Sackcloth & Ashes is honored to partner with Capitol Subaru to Blanket Oregon. Each customer that purchases a new Subaru will be given a Sackcloth blanket as a "thank you" - and because of the partnership with Capitol Subaru, 2500 blankets will be donated to homeless shelters across Oregon. We knew Capitol Subaru was the perfect fit for us because of all of the work they do locally for our community said Bob Dalton President of Sackcloth& Ashes
---
Capitol Subaru Supports Willamette Valley Hospice - Shelly W
Capitol Subaru's sponsorship of the Walk-n-Wag in September helped raise funds and community support for the pets of Willamette Valley Hospice patients. Sometimes what's needed is dog walkers or help with transportation. Often the need is more expensive, to cover deferred veterinary care and grooming, or help with finding a new home when patients can no longer care for their beloved animal companions. Thanks to Capitol Subaru, the hospice is able to say "yes" to requests like this one, for re-homing two adult cats in Salem. Toby and Foxy had gone through a lot. Foxy's human mom died several years ago and she became an outdoor cat – very skittish and reluctant to interact with people, though she would come to the door to be fed. Toby's human dad died this spring, and he sat on the bed, waiting for him to come back. Willamette Valley Hospice staff and Pet Peace of Mind (PPOM) volunteers worked with extended family members to get them both the care they needed and find new homes, especially difficult for adult cats during 'kitten season'! Thanks to a note on the W.V.Hospice outreach booth at the WillaMutt Strut (also supported by Capitol Subaru!), PPOM found a new home for Toby, where he spends his days snuggling with his new 'grandma'– and hiding from everybody else!. It took the PPOM volunteer and the family member multiple attempts to bring Foxy into care. They finally caught her in a Havahart trap and took her to Dr. Kathi Hellwig at Neighborhood Animal Hospital, the veterinarian who had treated her has a kitten many years ago. They coaxed her out and gave her an exam and updated her vaccines. Then a volunteer from OSCAR (Operation Safe Canine Animal Rescue) came and picked her up in Salem, and took her to a new home in a barn in Molalla. So nice to have 'dog people' helping a cat, too! Capitol Subaru's commitment to pets and people is a Love Promise kept through Willamette Valley Hospice's Walk-n-Wag!
---
Yoga-Bark and Beer - Sherri P
Yoga, Bark, and Beer: This is a special event that combines Yoga, Dogs, and fundraising for the Humane Society. We open the Service Drive to Internationally known Yoga Instructor Mikki Trowbridge who says " I love the fact that Capitol Subaru is open to this very unique but awesome way to heal body and mind" she conducts an hour-long yoga class for guests and their dogs. We had over 75 participants at the event in August along with a big grouping over 20 dogs. After an hour of yoga on the Service, Drive participants can have food, drink and look at information on how to help the Shelter and donate. Everyone leaves with Subaru gift items. This event really inspires and resonates with our Subaru clientele. We have a 2019 Subaru Ascent as our snack wagon with treats in the back for humans and their pets, this allows us to show the great new Subaru product in a fun way. This is the 2nd annual and we look forward to many more years of a very Subaru event!!
---
Capitol Subaru Supports Marion County Youth Garden - Robin K
We just wanted to thank Capitol Subaru and it's staff for supporting the Marion Polk Food Share and especially our Youth Garden. Their donation of $7500 helps us support over 50 families with free fresh produce and also allows us to sell the remainder and make money to sustain our gardens. We reached out to many local businesses and Capitol Subaru was the only one who stepped up to the plate, they told us they are doing it because it was the right thing to do!! Capitol Subaru truly demonstrates the "Love" culture of Subaru and we cannot thank them enough!!!
---
Capitol Subaru Supports SMART- children's literacy - Michael F
We want to thank Capitol Subaru for being a great sponsor of the SMART organizations and helping our children grow. SMART stands for start making a reader today and we help provide children in Kindergarten learn to love reading. Statistics show that kids without the ability to read above an 8th grade level have a 80% higher chance of not graduation from high school, Capitol Subaru understands this and even has employees that donate their time to come and read to the kids at Independence Elementary School weekly. "Without the support from Capitol Subaru we would not be able to provide this level of support to our kids" says SMART Senior Program Manager Michael Finlay, "they always go above and beyond and share their Love for reading with the children"! Capitol Subaru has helped us to grow over the last 5 years and has enabled us to take care of more than 500 kids in that time frame, they also always donate cool Subaru backpacks and books to every child in the program at Independence Elementary School.
---