The 2021 Subaru Love Promise Community Commitment Award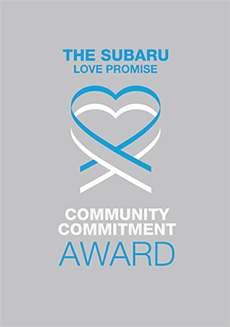 We've been nationally recognized for our dedication to our community and the Subaru Love Promise.
We're honored to receive the 2021 Subaru Love Promise Community Commitment Award. This award nationally recognizes Subaru retailers who are making the world a better place while demonstrating an outstanding commitment to supporting passions and causes in local communities. These efforts are focused in important areas such as the environment, community, health, education, and pets.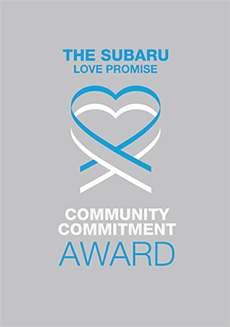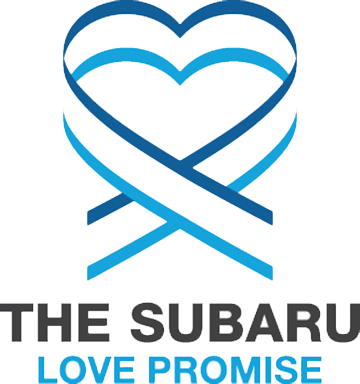 What is the Subaru Love Promise?
Subaru and our retailers believe in making the world a better place and the Subaru Love Promise is our vision of respecting all people. This is our commitment to show love and respect to our customers and to work to make a positive impact in the world.
How is Capitol Subaru of Salem dedicated locally to the Love Promise?
At Capitol Subaru, our Love Promise to the Salem area can be in seen in various partnerships with local charities and nonprofits. We're grateful for the opportunity, not only to be a part of the Salem community, but to serve it as well.
Willamette Humane Society
Eco-friendly technology, Straub Enviornmental Center
SMART, Salem-Keizer Education, Salem New Car Dealership Assoc, Soroptimists
United Way of Marion/Polk Co
American Heart Association, Marion/Polk Medical Society, Med Assist, Salem Health Organization, West Valley Hospital
Love Promise Stories from Capitol Subaru of Salem
Subaru and Capitol Subaru of Salem believe in making a positive impact on the communities in which we live and work. We uphold that belief through our Love Promise Community Commitment. Every month, we select inspiring stories from customers and partners from around our area who strive to support our collective commitment and feature them here
Capitol Subaru and the County Alternative Program - Richard A
Capitol Subaru reached out to us when they were building their new dealership and asked about using our Juvenile Alternative Work Program to help in building some one of a kind wood projects. The Marion County Alternative Programs first started in 1979 when County Judge Albin Norblad wanted a sentencing option of work programs for juveniles under court supervision. The initial concept has continued to evolve and grow as has the work sites, gardens, structures, and focus. The Alternative Programs provides a comprehensive opportunity for youth to give back to the community through community service, participate in work to pay restitution to crime victims, develop work habits, and learn higher level technical work skills for future employability. The program has four components: Community Service (YCSP), Matrix, Focused Utilization of Employment and Labor IV (FUEL), and the Fresh Start Market and Coffee Shop. The pieces in the Capitol Subaru facility the program have made are the planter boxes, end table log rounds, fire place mantels, the pet and merchandise tables. The wood came from donated and reclaimed logs from the local area. We teach the youth the whole process and they get to experience the making and selling their products all while they are learning trades. Other skills we teach are carpentry, woodworking, welding, and metal cutting. Soon we'll be teaching CAD (computer aided design) with our wood and metal CNC machines. We truly appreciate Capitol Subaru allowing our youth program members to be a part of their beautiful new dealership and being able to take pride in the work they did for Capitol Subaru.
---
Capitol supports the memory of our college friend - Tina J
We recently had our 9th annual Jebner's Wish Golf Tournament & Dinner and Capitol Subaru generously sponsored the event! Back in 2013, our college friend, Jeremy Ebner, passed away after a nearly 2 years long battle with leukemia. He had a goal of starting a fundraiser for local kids going through similar circumstances as he could not imagine them dealing with the pain and suffering he was experiencing. After his passing, four friends came together to create the non-profit and event in his honor, with all proceeds benefiting Make-A-Wish Oregon. To date, we have raised over $210,000 and granted the wishes of 35 local children! Capitol Auto Group and Capitol Subaru once again have shown how much their local community means to them through their sponsorship of this event. They easily could have passed us over in favor of many options, but chose to support our cause, going above and beyond just as they do with their customers. Thank you Capitol Auto Group for your support of volunteer-based non-profits!
---
Capitol Subaru helps blaze a trail for local kids - Fletcher J
Make-A-Wish Oregon was once again thrilled to have Capitol Subaru as our presenting sponsor of the Trailblaze Challenge, a 26.3 mile endurance hike through Silver Falls State Park this July! Carrie, Brian, and the Capitol Team were incredible in their support of the event, which raises funds for local wish kids. Before event day, Capitol held a volunteer and hiker appreciation event in which attendees had the opportunity to hear from a wish family directly impacted by the fundraising efforts of those who support Make-A-Wish Oregon, as well as check out the fabulous new Subaru retail space that Capitol has. On event weekend, Brian joined the Make-A-Wish Team in welcoming all the participants and their families to the event and then celebrated with the hikers as they crossed the finish line the next day! Having purchased a car from them and seeing first hand their involvement in the community, Capitol focuses and excels in providing amazing support and making sure your experience is above and beyond what you think the best could be. It is rare to find that kind of effort given both in their charitable giving and in their for-profit venture. If you have the opportunity to support this local, family-owned business, don't miss out on lifting up this business the way they life up the community around them!
---
Subaru Shares the Love with WHS Pets - Sherri P
Buddy came to the Willamette Humane Society with a large abscess on his head and lumps and bumps common for an 11-year-old senior dog. The shelter medical team could see that he was in pain, and went right to work. He had surgery to remove the mass, as well as a dental cleaning. His former family noted he'd been having seizures, so Buddy settled into a foster home where he could heal, and where they could monitor his recovery. Thanks to the incredible funding from Subaru and the Share the Love program, dogs like Buddy can have a second chance at their happily ever after. Once Buddy recovered, adoption applications poured in, and Buddy is now living an adventuresome life as a canine co-captain. This young-at-heart labrador will spend part of the year aboard his family's sailboat. They will be forever grateful that Willamette Humane Society was able to provide such excellent medical care, thanks to the support from donors like Capitol Subaru. With Subaru's help, shelter pets not only survive, but thrive in their new forever homes.
---
Capitol Subaru helps Doris get her beautiful smile - Shelley W
Doris feels SO much better after her dental care – including the removal of 22 teeth! Dental cleaning and surgery is the single most expensive routine service needed by adult animals to improve their quality of life. Free of mouth pain and other systemic health effects of tooth decay, the pets are more able to be a comforting presence to their special person for the remaining time they have together in hospice care. Because of the lab tests and anesthesia necessary to perform dental care safely, the cost for dogs and cats ranges anywhere from $300 to more than $1,000 per animal. Patients and families dealing with serious human illness find it difficult to afford costly veterinary care like this, so it has often been deferred, or has never been done. In cases where no family member or friend can adopt the pet, when it comes time say goodbye, having expensive dental care already completed will help ensure timely placement for these animals in the loving arms of a new forever family. Capitol Subaru generously designated their $1500 Philanthropy award from Automotive News to care for the dental needs of pets like Doris through Willamette Valley Hospice's Pet Peace of Mind program. The dogs and their beloved people are grinning from ear to ear!
---
Starting 2021 With Love - Brian S
Capitol Subaru and it's employees raised over 400 pounds of food and health care Items for a local homeless shelter and also for a Battered Women/s shelter. Dealer Alex Casebeer said "we have to kick off 2021 with a show of love to our community and those in need" We couldn't be more proud of our staff and our customers for their support.
---
Capitol Subaru helps again - Shelley W
During the Oregon wildfires in September, this sweet little guy needed a temporary foster home while his person evacuated the area due to the hazardous air quality. One of Willamette Valley Hospice's volunteers, Diane Young, operates the local rescue Salem Dogs. She picked the dog up at a moment's notice and kept him with her until it was safe for his person to come back and get him. That's the kind of thing Pet Peace of Mind does for hospice patients and their fur babies. Thanks to Capitol Subaru's support, PPOM is a robust and community-supported resource. Thanks again, and best wishes - Shelley R. Wagener Volunteer Coordinator 503-588-3600
---
Capitol Subaru Surprises and Feeds Fire Fighters - Jordan T
As an area of the northwest that is rarely affected by natural disasters, the community of Salem came together in a way of indescribable cohesiveness. People from all walks of life gave their time, donated their belongings and contributed their finances for those who lost everything. Business owners and their associates stepped up when called upon to help with overwhelming support. Chief among them was the amazing team from Capitol Subaru. Owners, employees, friends and family gave their own time and resources to help feed and clothe evacuees including a group of fire fighters themselves. Capitol Auto Group's devotion to this community has long been on display, but their recent commitment in a time of need raised the bar and helped set the tone for how we should love one another. This fighting spirit of compassion runs deep in our small corner of the world, but without their decisive call to action, much of this would have been impossible. I want to personally thank the Casebeer family, the team members of Capitol Auto Group and the fine brands they represent for setting the example for all businesses, big and small by doing what was right and never settling for less in a time of need! Many thanks!
---
Capitol Subaru Steps up to help during wildfires - CAPITOL TOYOTA C
September 7th, 2020, wildfires broke out in the Santiam River Canyon just 30 miles from Capitol Subaru in Salem Oregon. Within 24 hours the fire had engulfed communities up and down the canyon. Capitol Subaru sprang into action to help our community and neighbors. We immediately called the United Way and asked what the biggest need was for the people that were evacuated and it was water. Within 2 hours of the evacuation notice, Capitol Subaru had employees volunteer that delivered 40 cases of bottled water and $1000 for the purchase of emergency supplies for the evacuees. Capitol Subaru also brought pet toys, pet food, and waste bags for pets that were also evacuated due to the wildfires. Stephanie Bobb from the United Way of the Mid-Willamette Valley was so impressed "I couldn't believe that within 2-3 hours of our initial call for help the Capitol Subaru employees were here delivering water and supplies and then continued to stick around and helped us move boxes and assist others that were bringing donations, it was AWESOME"! In the days following the initial outbreak of wildfires Capitol Subaru continues to provide assistance to the local United Way thru volunteer hours and donations.
---
Bringing joy to a local boy - Fletcher J
In Early August, Capitol Subaru was informed of a young boy and his family who needed a little joy in their lives. Wish Kid Frankie and his family have been hit hard by the effects the pandemic has had Frankie's treatments as well as the economy. Frankie has a critical illness that causes seizures of all different kinds and the family was looking to bring 3-year old Frankie some happiness and his family some peace of mind. That is where Capitol Subaru steps in. Hearing this news, they pull together the resources to give Frankie some of his favorite toys and the opportunity to check out some cool Subaru's in his favorite colors, red, blue, and black! On the day of what become known as Frankie's Car Party, Capitol Subaru brought out the cars, toys, and a final big surprise for Frankie's mother. Due to the concern over seizures, she expressed that she had not slept for more than 3 hours at once any night in the last three years and the family was looking to purchase a seizure monitor but could not afford it. Capitol Subaru made the choice to purchase that monitor for the family and delivered it to the mother who broke down in joy. She expressed that, "They could never know how much this means to her and that she is truly grateful for this gift that will bring her some peace of mind and hopefully some more sleep!" There is not a doubt in my mind that Capitol Subaru is as connected to the Salem community as anyone and makes it their business to impact that community in a positive way!
---